Advanced 4MHz Radiofrequency Technology
Actto-50RF
Advanced 4 MHz Radiofrequency Technology Actto-50RF unit represents advanced radiowave technology that provides unparalleled surgical control, precision and versatility.
The high frequency of 4 MHz minimizes heat dissipation and thus cellular alteration.
Precision : sculpt precise incision in very thin, mobile or tension-free tissues
Less Burning or Charring of Tissues : minimizes burning of tissue, unlike laser or conventional electrosurgery
Decreased Post-Operative Pain : causes less tissue trauma
Excellent Cosmetic Results : causes minimal scar tissue formation
Quick Recovery : with less tissue damage, healing is hastened and patients will recover quickly
DNHmedtech provides technology with improved performance at low power settings minimizing the risk and damage, and stop bleeding quickly


Gingivectomy
For extremely precise tracing of the ideal gingival line
Exposure of impacted tooth
Circular incision for a clean and successful exposure

Abscess incision and drainage
Fast and deep treatment

Dental neck exposure
Ideal for treating hidden decay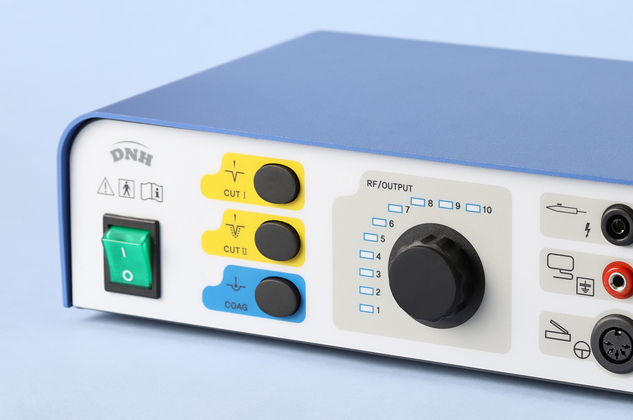 The PRECISION you require with the VERSATILITY you need
Reduced post-operative discomfort
Minimal scar tissue formation
Maximum readability of histologic specimen
Enhanced healing
Excellent cosmetic results
RF Electrosurgery
The theory of Actto-50RF is to emit a High Frequency Radiofrequency oscillating form the device.
This is very different form low frequency electrosurgery in which the special nature of the high frequency is changed by the current characteristic.
The Radiofrequency electrode tip becomes energized by the radio-waves but does not become overly hot.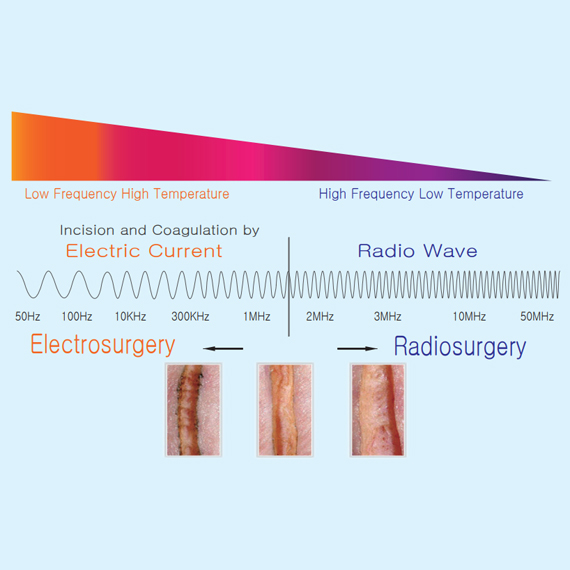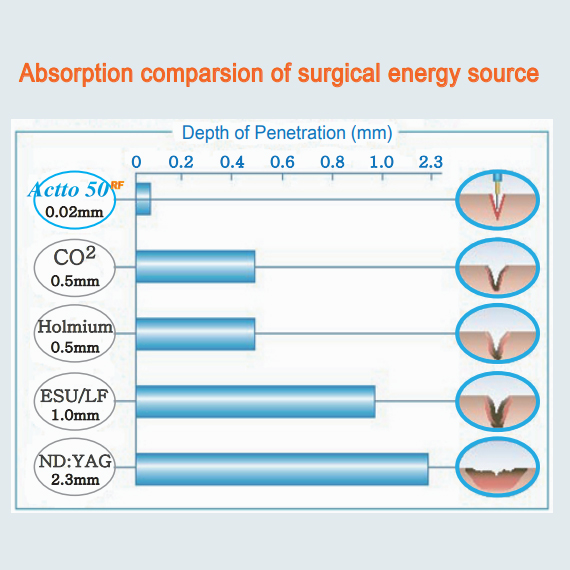 ---
Actto-50RF unit specifications
| | |
| --- | --- |
| Width | 265 mm |
| Height | 90 mm |
| Depth | 180 mm |
| Weight | 2.8 kg(only unit) |
| Frequency | 3.7 MHz±5 % |
| Output Power (10 Level) | CUT(50 W), CUT/COAG(45 W), COAG(30 W) |
| Electirc Safty | Standard |
| Power Supply | 220/230 V, 50/60 Hz, 240 VA |
| Electrical classification | Class 1, Type BF |
---
Included Components
| | |
| --- | --- |
| Actto-50RF Unit 220/230 V | 1 |
| Power Cord | 1 |
| Reusable Electrode Set(6 type) | 1 |
| Dispersive Electrode with Cord | 1 |
| Footswitch | 1 |
| Handpiece with Cord | 1 |
| Handpiece Table | 1 |